This article is for you if:
You operate medium-sized refrigeration equipment, such as retail refrigeration, walk-in cold rooms, cellar cooling or chillers (it will likely not apply to small refrigeration, such as undercounter fridges, bottle coolers and upright fridges).
Your equipment was purchased before mid-2018
You want to know more about the refrigeration gas ban coming into effect on 1st January 2020 and if/how it will affect you.
This article explains:
What F-Gas is and associated terminology
The new regulations and why they have been introduced
How these regulations might affect you
How to work out if you are affected
How to prepare and take action
Key takeaways from the article:
Check your F-Gas log books. If your equipment GWP is over 2500 & its CO2 equivalent is over 40 tonnes, you need to consider your next steps to protect against legislation.
If your F-Gas log books are not safely accessible, ask us to conduct an F-Gas legislation audit on your next service. If your next service is due after 1st Jan 2020, we can conduct one before for a small charge.
If your equipment is affected and that equipment is important to your business operations, it is worth planning to adapt or replace it. Speak to us for advice and support.
---
From January 1st 2020, new regulations come into effect around fluorinated greenhouse gases (F-Gases). These will affect some of our customers and we have put together some simple guidance on how to identify if you need to take action.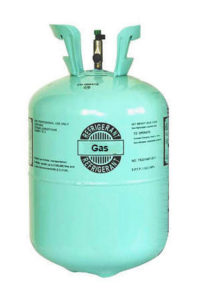 F-gas is a refrigerant and is contained in most commercial refrigeration units throughout the foodservice & retail industries. F-gas is the refrigerant that transports heat around the system – either away from an area to cool it, or towards an area to heat it.
These changes in legislation are likely to affect medium-sized refrigeration upwards, such as remote retail refrigeration, walk in fridges, cellar coolers and chillers. It is not likely to affect small equipment, such as bottle coolers, under counter fridges & upright fridges. It is explained below how to identify if your equipment is affected and we can help with this if required.
Regulations are changing because F-gases are a major contributor to global warming. Like CO2, F-gases trap heat when released into the atmosphere and increase global temperatures, however their impact is more severe than CO2. F-Gases can be released into the atmosphere through equipment leaks, decommissioning or anything that releases gas from equipment.
There are many different varieties of refrigerant gases and they all have individual codes. For example, R404a, R134a, R448, R449 and R32 are all different types of refrigeration gases.
Each variety traps a different amount of heat if released into the atmosphere and therefore has differing impact on global warming. EU regulations are in place to restrict the use of particularly polluting F-gases, and these regulations have intensified in recent years and are set to increase in pace again.
These regulations can have an important impact to customers whose equipment contains restricted gases. This article explores what that impact can be and when to take action.
It's worth mentioning at this point that Brexit will have no immediate impact on F-gas targets. Whilst targets have been set centrally by the EU, the UK is set to carry on with these targets if and when we leave the European Union.
Regulation restrictions come in two basic forms:
Banning the use of certain refrigerants
Refrigeration equipment is manufactured to work with a specific variety of gas (e.g. R448). Manufacturer instructions stipulate which gas is to be used and it's not simply a case of choosing another gas for your equipment if yours becomes restricted or banned by regulation. Doing so can be similar to putting diesel into a petrol car or vice versa – it will substantially damage the mechanics of the equipment and could be a substantial health & safety risk (e.g. fire). In some cases, it is possible to use different gases for your equipment, but usually with retrofitted converters/replacement parts that have been approved by the manufacturer.
This poses a commercial challenge when gases are banned. Equipment either has to be retrofitted or replaced in its entirety. The pace at which changes are being forced through has put real strain on the industry – to the point that some equipment containing gases shortly to be restricted still being on sale up until as short as 18 months ago. When you consider that you would like to get at least 5 years from most refrigeration equipment, this can be a frustrating realisation for customers.
Particular refrigerants have already been banned (e.g. R22) and others are set to be phased out and banned over the coming years. This is usually done in stages, with restrictions applied over a number of years until they are ultimately phased out.
Firstly, new equipment made for use with the restricted F-Gas is phased out, but existing equipment already installed at customer sites is still legal to use & service. Secondly, several years later, restrictions are placed on the maintenance of existing equipment containing the restricted gas. This usually means that, if the equipment needs a repair and that repair involves adding new gas to the system, it is no longer permitted to use 'virgin gas' (i.e. freshly manufactured gas). You can still use reclaimed and recycled gas, however its availability is limited and is commonly expensive. Virgin gas restrictions are usually introduced in stages depending on the size of your equipment and the gas it contains, with larger units using the worst gases being restricted first.
Finally, several years later, the gas is phased out altogether. Whilst it still remains legal to use your equipment, it is no longer legal to repair it if it breaks. Therefore, if you rely on your refrigeration system for a business-critical function, it is highly recommended to replace at this point (or indeed before) to avoid substantial disruption to your business when that 'break down day' inevitably occurs.
We have already experienced this phase out programme with R22 refrigerant, which was dominant in air conditioning units manufactured before 2004. New equipment was banned from sale in 2004, servicing with virgin gas banned in 2010, and the gas banned altogether in 2015.
Restricting supply to the market
Coupled with the above, both the EU & UK governments are restricting the supply of high-polluting F-Gases to the market. Quotas are set for EU-wide gas production as well as limits for sale in each country, with quotas reduced year-on-year.
This produces a supply and demand imbalance and rapidly pushes up the cost (and reduces the availability) of replacement gases.
These restrictions start when new equipment is phased out from sale (i.e. the first step in restrictions) and intensify to the point that virgin gas can become extortionately priced long before it is due to be banned for use in servicing.
For example, virgin R404a refrigerant is due to be banned in January 2020. Between January 2017 & January 2018, the price of R404a refrigerant increased 1017%. That's over 10 times its original price.
This places extra pressure on customers with rapidly increasing servicing costs and also increases risk of downtime due to gas availability. Combining supply pressures with upcoming phase-outs means that customers may feel the pinch well before bans come into place.
Will my equipment be affected by the Jan 2020 restrictions?
In January 2020, it will become illegal to populate systems with virgin refrigeration gas if they meet the following conditions:
The refrigerant gas has a global warming potential (GWP) of over 2500 and
The system contains an amount of refrigerant gas which equivalent to 40 tonnes or more of CO2.
Let's explore these two conditions and where that information is kept so you can work out if your equipment is affected. A bit of forewarning – this section can get a bit complicated – we're on hand to advise and help whenever you need us.
Your F-Gas Log Book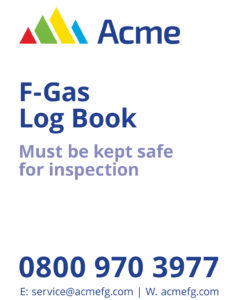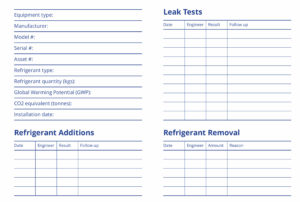 Acme provide an F-Gas log book for every piece of equipment installed or serviced by us that contains gas equivalent to 5 tonnes or more of CO2 (see more on what that means later). This book (or similar) is required by law and details the type & mass of refrigerant gas included in the equipment, its global warming potential (GWP), its CO2 equivalent value and other information. This book is located in a plastic pocket either on the outside of the condenser or on the inside of the equipment casing (which should only be accessed by a trained professional).
This booklet and some of the figures inside are specific to your equipment and installation. You should not assume that equipment of identical make and model will have the same CO2 equivalent values. This is because it depends on the length of the pipe-run in your system. If there is a long distance between units, more gas will be required to fill your system and the higher the CO2 equivalent figures (terms explained below).
Criteria 1: A Global Warming Potential (GWP) of over 2500
As aforementioned, different refrigerant gases have different impacts on global warming. This is measured through a standard metric called Global Warming Potential (GWP). Each gas has its own GWP value and this is listed in the F-Gas log book accompanying your equipment.
If the GWP of your gas is over 2500, then the regulations may affect your equipment and you may need to take action.
Criteria 2: The system contains refrigerant gas equivalent to 40 tonnes or more of CO2
The 'CO2 equivalent' figure takes into account both the mass (amount) of the gas in your equipment and the GWP value of that gas (how much it affects global warming). Combined together, it provides a figure that is specific to the amount and type of gas in your equipment.
This figure is also listed in your F-Gas log book, so you don't need to worry about calculating it. But for those who are interested, the equation can be found here.
If your CO2 equivalent figure is over 40 tonnes, and your GWP value is over 2500, then the Jan 2020 ban applies to your equipment and you may need to take action.
Do I need to take action?
Assuming your equipment meets the criteria highlighted above, our service engineers will not be able to populate your equipment with 'virgin' gas from January 2020. You will still be able to operate your equipment, and we will still be able to give it a condition assessment (as opposed to a full service), but should the unit break down, you may find it difficult to repair in an acceptable timescale.
If a system develops a leak or the gas becomes contaminated, systems need to be 'topped-up' with refrigerant or have all their refrigerant gas replaced. If this happens, we will not be able to use virgin gas.
It is still possible to top up or replace gas with 'reclaimed' gases – these are gases that have previously been reclaimed from other equipment and have been reprocessed to remove impurities, however they are typically expensive and of low availability.
However, reclaimed and recycled gas will also be banned for use in this equipment from 2030.
Naturally, if you heavily rely on this is a piece of equipment for your business, you may want to consider either a refrigerant conversion kit or replacing the equipment. The key thing to consider is, when 'break down day' inevitably occurs, will the extended downtime experienced and the associated recovery costs/risks be more damaging than the cost of converting or replacing the equipment proactively? The age and expected lifespan of the equipment will also be a factor, as well as the cost of gas conversion or replacement.
We are happy to advise on a recommended course of action and provide options where required.
What can I do?
If your business is affected, it's important to consider and address issues in advance. We can help you decide if you need to take action and give recommendations on what is best for your situation. We can also provide budget costs so you can plan in advance for any equipment adaptations/replacements that may be required.
F-gas legislation audits
If you need help determining if your equipment will be affected, we can conduct an F-Gas legislation audit as part of your next service visit, with no extra charge. Just request this from our service team when booking.
If you don't have a service visit planned between now and January 2020, we can schedule a separate audit for a small fee.
If my equipment uses a high GWP gas but a CO2 equivalent value of less than 40 tonnes, will it be banned from servicing in the future?
The answer is probably yes, but we don't know when yet. The government have already outlined plans to ban the sale of new equipment of any size with high GWP gases, but not yet stipulated if and when servicing will be banned.
Need help or advice?
Please click here to get in touch or call our teams on 01254 277922.