test
Case Study
Leeds University Union

Key Facts
Name:Leeds University Union
Location:Leeds, West Yorkshire
Size:4 Restaurants, 400 covers
Type:Commercial Kitchen, Ventilation, Cold Rooms

Background
Leeds University Union (LUU) has been ranked consistently as a top 10 UK Students' Union by the Telegraph, Which? and the National Student Survey. As part of their ongoing investment in student facilities, they have undergone an 18 month, £16m refurbishment programme. LUU chose Acme to design and install four new commercial kitchens that serve their all-new bars and cafes.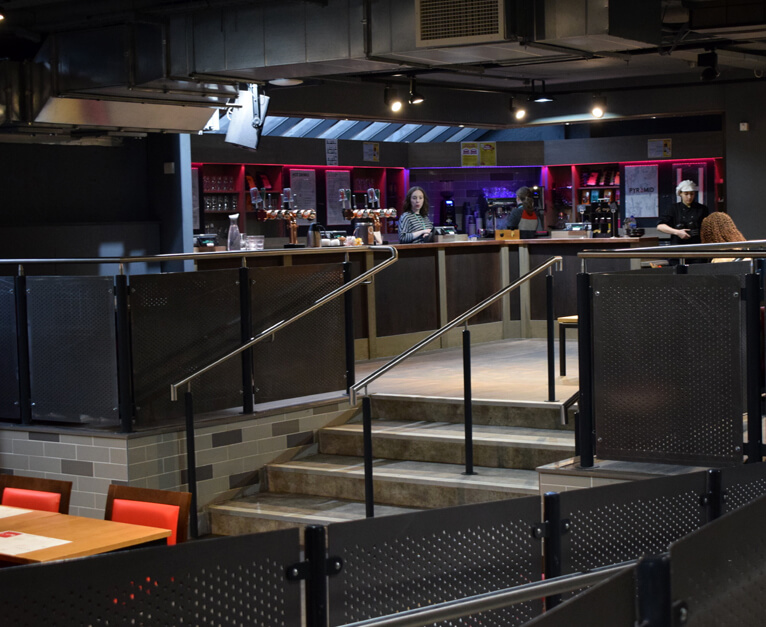 The Project
Gary Livsey said, "Acme spent a lot of time with our catering managers during planning to ensure that all four kitchen designs were well considered. Their expertise in equipment selection and ergonomic and practical design was really valued throughout."
Gary added, "from a recent student survey, we had found that our students overwhelmingly wanted a new menu item: pizzas. Acme were great in helping us find the right equipment to prepare and serve the best quality stone cooked pizzas. We even make our own dough".
Gary Livsey added, "One of our favourite things about Acme is that from our very first engagement, right through to post-project support, we've always had one main point of contact: Darren. Dealing primarily with one person brings a whole level of consistency to a large project like ours. Darren not only coordinated Acme's internal resources but also ensured that plans tied in closely with the main contractors, McAlpine. I could trust Darren with ensuring that Acme's part of the project all went to plan."
LUU is like any other business: closing for refurbishment means a loss of trading revenues. That's why Acme worked closely with LUU and McAlpine to give a one day switch over for their primary kitchen, ensuring a virtually uninterrupted service for their main bar/restaurant, the Terrace.
Darren Mason, Acme Divisional Catering Manager said, "With all four kitchens, we scheduled installations in a very tight timeframe to minimise downtime. For the largest kitchen, we made arrangements with the main contractor so the new kitchen could be fitted whilst the old one remained running. This meant that there was just one day of downtime for the biggest part of LUU's business."
Gary added, "Acme were very flexible with the installations. McAlpines hit snags early in the building work which pushed Acme's project back by three months. Acme were very accommodating and when it came to their installation, they ran perfectly to time. If they said something was going to take three days, it did."
Acme were very accommodating and when it came to the installation, they ran perfectly to time. If they said something was going to take three days, it did." Gary Livsey, Facilities Manager, Leeds University Union
The End Result
Gary added, "We were very happy with the workmanship from Acme. As with any project, there have been post install snags, but we've been particularly impressed with Acme's approach in this area. Darren and the wider Acme team have always been quick to respond and there has never been any shirking of responsibility – they've just got on with alterations and tweaks quickly and efficiently, even if it doesn't technically fall under their remit."
Gary finished with, "I'd have no hesitation in recommending Acme for any large kitchen project. We've received a very professional and attentive service and their coordination with the main contractors has been very much valued."